'Localising the Anthropocene' in South East Asia
In late October Cameron Muir organised and presented a special panel at the Fourth Conference of East Asian Environmental History (EAEH 2017). Ten presenters had 7 minutes each to tell a story through an object that illustrated connections between the local and the global Anthropocene. Objects included crushed rock, Idaho potatoes, Tsingtao Beer, a horse-drawn cart, sea cucumber, salmon, life jackets, rice and roads!  The format of the panel was inspired by the Anthropocene Slam held in Madison, USA in 2015, which has since spawned similar events and modes of presentation around the world.
Presenters:
Lisa Brady, Professor, Boise State University (Chair)
Philip Brown, Professor, Ohio State University
Shen Hou, Assistant Professor, Renmin Univeristy
Cao Mu, Assistant Professor, Tianjin Normal University
Jongchan Lee, Professor, Ajou University, Institute for Tropical Studies
Donald J Hughes, Distinguished University Professor Emeritus, University of Denver
Cameron Muir, National Museum of Australia / University of Sydney
Satoshi Murayama, Kagawa University
Fei Sheng, Sun Yat-Sen University
M. William Steele, Professor Emeritus, International Christian University, Japan
Many of the presenters are former Fellows of the Rachel Carson Center, Munich. Former Carson Center Fellow and keynote speaker Donald Worster joined the discussion at the special panel event.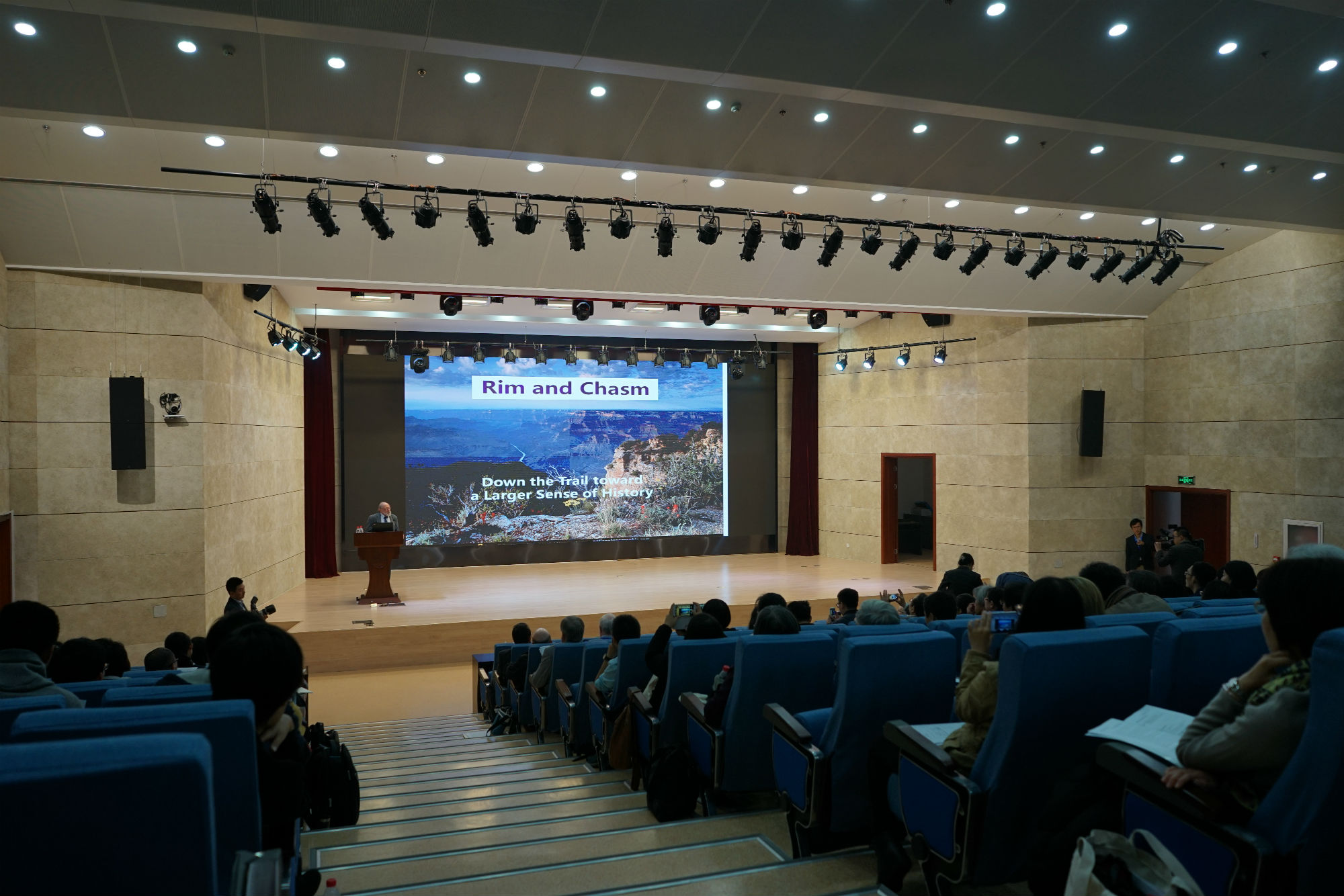 The event was a chance to try out an Anthropocene object show-and-tell, which will become part of the public programming for the exhibition for this project. There was a playful atmosphere between presenters and the audience.
There was a lot of interesting variation in the ways people from different cultural and linguistic backgrounds interpreted 'the local', 'place' and an 'object.' This is something we can expect and learn from we hold our object show-and-tells around Australia. The audience loved the idea of 'localising' the Anthropocene and the touring program – a couple of people asked when it would tour their country!
The panel abstract
The concept of the Anthropocene pushes our imaginations towards long time frames and vast geographical scale. While this can be useful, one disadvantage is that it flattens history and difference between societies into one narrative – one that is framed primarily by the language of the natural sciences (Malm & Hornborg, 2014). The contingent, historical causes of the Anthropocene are lost. Not all humans are responsible for the Anthropocene, and the consequences of the Anthropocene will be felt unequally among different populations.
Our panel attempts to 'localise' the concept of the Anthropocene. Presenters have 7 minutes each during which they will use an object as a prompt to tell a story about the experience of the Anthropocene in their local place. This is a mini 'object slam' that considers the Anthropocene as a cultural-ecological challenge rather than a techno-scientific one. It is an examination of the Anthropocene from the ground up, rather than treating it as an abstracted, overwhelming phenomenon.
We try to integrate people's emotions and experiences of daily life – from feelings of grief and loss to hope and determination – with intellectual understandings of global ecological transformation. We hope to create a safe space for talking about differences and connections as we contemplate our histories and futures on this planet.