Anthropocene Roundtable
The project team held an Anthropocene Roundtable on Friday 24 March. Iain McCalman invited researchers in Sydney working on the subject of the Anthropocene to discuss their work, tell an object story, and review our project.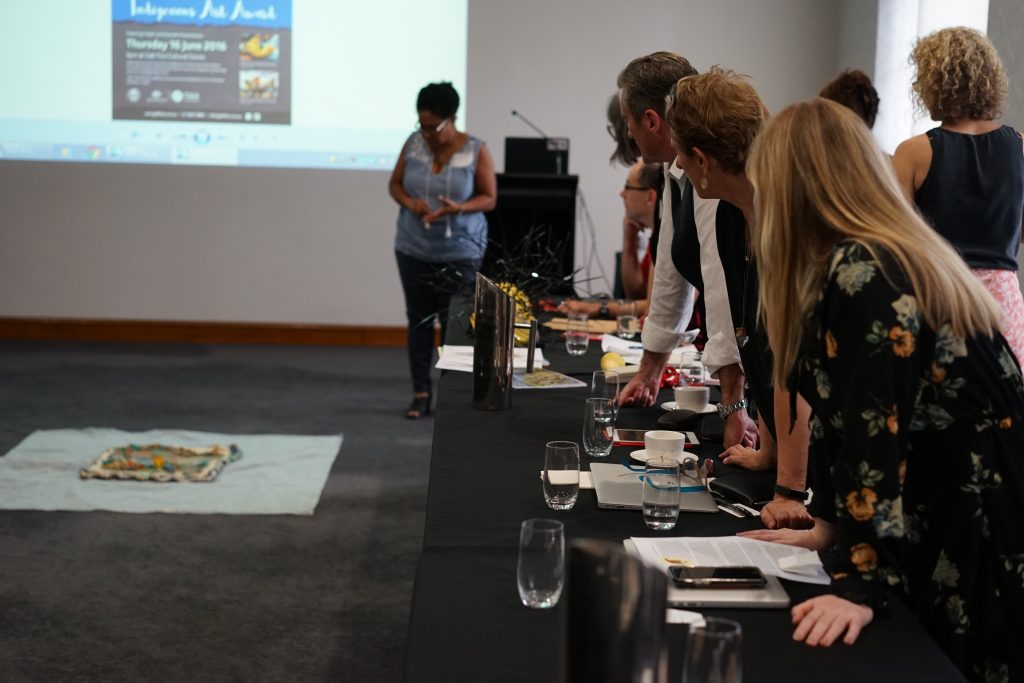 In the morning we discussed the aims of the ARC funded project led by researchers and curators from the National Museum of Australia, the Sydney Environment Institute (University of Sydney), and the Australian National University. We looked at a draft version of an online gallery that is part of the project. It will feature stories that use objects as a prompt to talk about people's relationships with their local environment and how they feel about the future. Our book project is another means of inviting collaborations, exploring the ideas that shape the project, and for reflecting on what we have discovered.
The rest of the day was dedicated to sharing Anthropocene object stories among our group of thirty or so participants. It was run the in the spirit of a poetry slam with each presenter pitching their object in a few minutes. The eclectic collection of objects included a coal briquette, coral cores, stygofauna, crayweed artworks, an albatross egg, a brine shrimp layer, Brent oil field rigs, a chainsaw and thongs.
Participants
Jilda Andrews, National Museum of Australia
Caitilin de Berigny, University of Sydney
Paul Donnelly, University of Sydney
Ann Elias, Sydney College of the Arts
David Farrier, University of Edinburgh
Renata Ferrari Legorreta, University of Sydney
Will Figueira, University of Sydney
Luke Fischer, University of Sydney
Laura Fisher, Sydney College of the Arts
Prudence Gibson, University of NSW
Jennifer Mae Hamilton, University of Sydney
Leah Lui-Chivizhe, University of NSW
George Main, National Museum of Australia
Iain McCalman, University of Sydney
Marie McKenzie, University of Sydney
Kelly Mitchell, Extrablack
Cat Moir, University of Sydney
Cameron Muir, University of Sydney
Astrid Neimanis, University of Sydney
Jenny Newell, Australian Museum
Emily O'Gorman, Macquarie University
Jude Philp, University of Sydney
Libby Robin, Australian National University
Martha Sear, National Museum of Australia
Jennifer Turpin and Michaelie Crawford, Turpin + Crawford Studio
Thom van Dooren, University of NSW
Adriana Verges, University of NSW
Jody Webster, University of Sydney
Josh Wodak, University of NSW
Charlotte Wood, University of Sydney